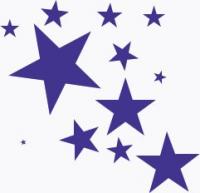 Most of the time, I like who I am. I'm happy with my writing, thrilled with the books my writing morphs into, and…oh, my gosh, completely over the edge with good reviews. I've been lucky there—there've been quite a few good ones.
And a few that sucked. Reviewers didn't like my cover, the blurb, the heroine, the ending. The book was too long, too women's fiction for a romance aficionado, too romantic for a women's fiction devotee. Some of them—gasp!—flat didn't like my writing.
I am not a new kid in publishing. My first book was published in 1999 and I'd been at it a long time before that. I'm not an overnight success by anyone's definition of the phrase, and that's really okay with me. Like I said, I like who I am. I've written contemporary, historical, and inspirational without worrying about establishing a brand. It'd be fun to make a living at writing, but I'm no longer willing or probably able to work that hard, so I don't, but…where am I going with this? Good grief, even I'm lost in all this talk about me, me, me…oh, now I remember.
My skin is no thicker than it was the first time someone hated my first book. Even though I wax philosophical about how not everyone can like everything and one person's opinion is just one person's opinion and hey, I'm the same person I was before she raked me over the reviewer coals, I don't really believe it.
Because even though I know not everyone can like everything, I still want everyone to like me. Even though one person's opinion shouldn't change the direction of my day, it does—if the opinion is that my book stinks, it absolutely ruins my day. And, yeah, I'm the same person, but I must be truly a terrible one if she dislikes me to the point that she hates my book.
Oh, gag me. But as pathetic as that sounds, that's the truth of it. I'm not here to offer solutions—don't I wish?—but to ask for them. If you've mastered the art of having a thick skin, how did you do it? I'll try anything. On the other hand, if you
haven't
mastered it, come sit by me—
we'll whine together.
Word Wrangler Liz Flaherty hopes you'll buy ONE MORE SUMMER and give it a great review!