I don't remember when I started reading romance novels, only that Harlequin Romances were—I think—40 cents apiece. I say "I think" because I read used ones whenever I could get them and that may have been their price. They were easy to read, exciting travelogues, and no one believed them.
No one believed them because, good grief, the heroines were children and the heroes were pedophiles. There were no degrees of personal sexuality for women—they were either virgins or they were promiscuous, with no middle ground. The men, however, were free to sleep with anyone with a vagina. No one was gay, no one was average looking, no one except the Cinderella nurses in Betty Neels' books lived paycheck to paycheck.
Slip forward 50 years. (This is actually very easy to do. I've done it, and I swear it happens so fast you don't know what hit you.)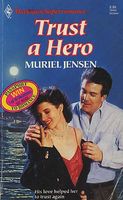 Most everything has changed. There are more sub-genres than someone who only reads contemporary or historical can keep up with. The trends alone can lead to crossed eyes and intelligent remarks like, "Huh?" Virgins are things of the past—I suppose they really are; I don't know—and romantic fiction now recognizes that some people are gay and un-wealthy. Not all that many people are average looking yet, but I have hope.
However, scarcely anyone is over 50. And I am amazed that when they are, they are more likely to be a caricature than someone I can identify with.
I know this is not a new complaint—I've made it myself way too many times. I also realize some writers—take a bow, Nan Reinhardt!—recognize that you don't lose your sexuality when gravity becomes your enemy. Others—stand up, Muriel Jensen!—notice that protagonists' older relatives are still productive, smart, and funny. I still re-read Muriel's Trust A Hero 24 years after its release not because I love its hero and heroine (though I do), but because the heroine's mother-in-law and the man she loves have been charming me for that 24 years I just mentioned.
What about you? Who writes your favorite…er…old people? Who makes them funny and believable and smart? Because, you know, that's how most of us are.