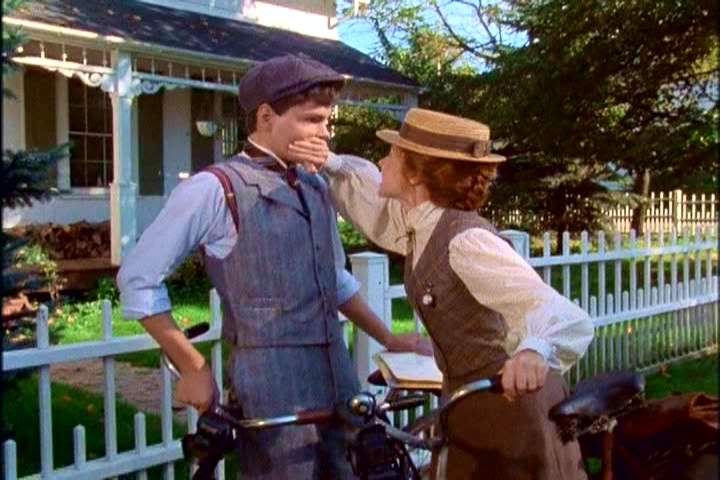 http://avonleavignettes.com/anne/photo3.html
Margie wrote about movie quotes last week. I really enjoyed the post, but since I'm not a movie person, I didn't have anything to bring to the quotes table. I could remember scenes and how they made me feel, but not quotes. However, the "how they made me feel" thing has come up a lot in my mind—and my emotions—lately.
In 1994, I made my daughter's wedding
Photo by Jeremy Flaherty
dress. Also the matron of honor's, three bridesmaids', and two flower girls' dresses. From March until August, I didn't venture too far from the sewing machine. Over and over, while I sewed, I watched
Anne of Green Gables
and
Anne of Avonlea
, the ones with Megan Follows and Jonathan Crombie playing Anne and Gilbert.
I loved how they made me feel while I sewed. They got me over the crying-over-beading and the many times I said, "I can't do this," and all the days I was much too tired to thread the needle one more time.
Over 20 years later, the movies make me feel the same way. Seldom have I seen so much joy, laughter, sadness, beauty, and warmth in one spot. I don't just watch them—I experience them—and each experience is richer than the last.
Thursday, Duane and I went to see The Dixie Swim Club at the Ole Olsen Memorial Theatre. While I admit to some bias, I think Peru, Indiana's local drama group is full of outstanding talent, and it's never been showcased any better than it is in this play. I laughed so hard I nearly cried, and then there was a brilliant, aching point where I was crying.
When we were talking on our way home, agreeing once again that we'd just seen the best production ever, I kept thinking of the writing mantra: Make them laugh. Make them cry. Make them wait.
I laughed so often during the Anne movies. I'm snickering right now, thinking of the dead mouse in the cream. I waited—not quite believing even though I'd read the books and knew—for Anne to realize Gilbert really was her kindred spirit. And I cried, when Anne and Marilla held hands walking home that day. When Matthew died.
It's always nice when readers say something that makes you goofy-smile and happy-dance all day. Or when they let you know you got them through something that would have been harder otherwise. It means that even though they may forget your name, the title of the book, or even its protagonists, they'll still remember how you made them feel. It doesn't get any better than that.
Jonathan Crombie died last week. He was only 48. He passed away after a brain hemorrhage. It is unbearably sad to think about. I hope he knew how much he gave to so many.
Rest in peace, Gilbert Blythe. You made me feel wonderful.